Dec. 9th is Andee's First Holy Communion.
I had to hurry home from work yesterday morning hoping to get a quick shut-eye. Communion starts at 1:30pm and will be held at the St. Scholastica's Academy Chapel. I had to admit, I was a bit stressed out.. for 3 reasons:
Number one
, Andee insists that we will be fetched by her dad by 12:30nn which I really doubt it since there has not been a single text message or a phone call from him.
Number two
, Baron's not yet home with the car and it was 12:30nn-- we had to be at SSAM by 1:00pm-- which made me realize that I should've had a 'plan B', that is, and said yes to an offer for a ride and to accompany me and Andee to school..,
and Lastly
, I had to ask my mom to accompany us (this is a special occassion for Andee) even if it meant her missing an important meeting in the afternoon. Anyway, off we went... though I know how sad Andee feels....
I had quite a hard time getting dressed since I RARELY ever dress up anymore. And as a parent-reader during the mass, Andee wanted her mama to 'look
maganda'
(baby, di pa ba?). So, ok, fine.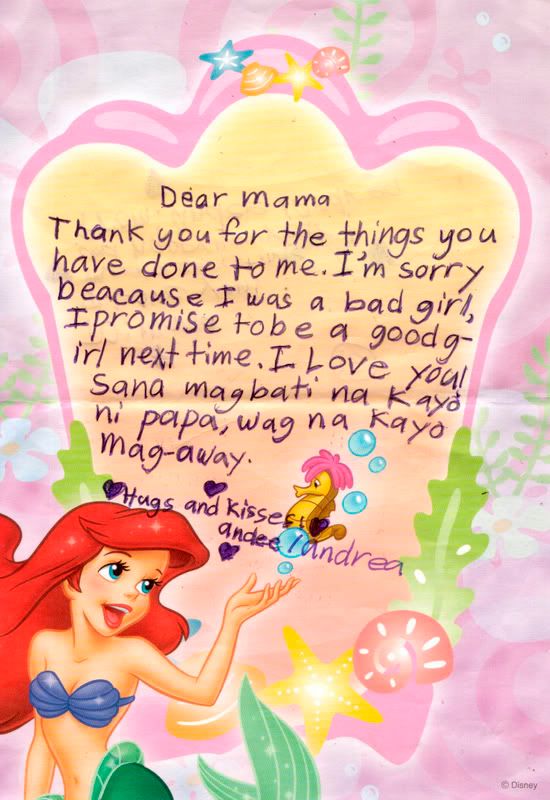 During Offertory, the 'communicants' had a little 'surprise'. They got up and gave letters to their parents.
I immediately knew what it was
(
naka! Kulasa
trademark yan!-- personalized letters!!!) and I got teary-eyed. Andee had 3 letters. One each for me, Diego, and of course, Nikki.
Yung sa tatay niya naka-special envelope pa
, while mine and Diego's was a sheet of a stationary.
"Ito kay papa ha.."
she said, and she hugged me. Ouch! that hurt me inside... what more with her? I never read her letter until now. And again, as the
balat-sibuyas
as I am...
luha, hikbi, luha.
I can't imagine how she is able to cope with this. I see in her eyes na malungkot din siya although she is (might be?) very aware of what is happening. There is a guilt feeling in a way that I may be responsible with what she is going through. I am missing something as a parent raising her by my lonesome. I've really failed to even try to let her know or understand what is going on between her dad and I. (Some psychologist you are, Yang!) I honestly don't know how to.
I'm taking Andee out later before lunch probably to Megamall or Galleria for her exchange gift at school. Bonding ito.