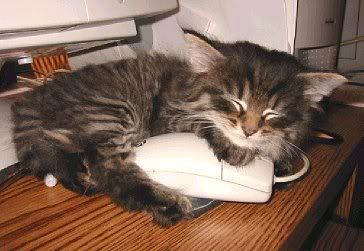 When I checked my email this morning, I received a "Friends Request" invitation from Enrico, a handsome jet black copper-eyed Bombay.
Huh?!?
Oh, it was supposedly for Cotton, my tortoiseshell cat!!! LOL The invitation was from
Catster
, a feline counterpart of the likes of
Friendster
, or
MySpace
, or
Yahoo360
, etc.
Catster
is a community of felines seeking friend(cats)ship, part(cat)ners, or just looking around, well, you know the drill.
The community has the same features as any online communities, like personalized profile (yes, my cats have their pics and profiles there!), family list, friends list!, online journal, classifieds and even a very interesting forum where you'll find cats looking for dates (yes they are!!!! virtual dates, that is!), seeking advice
'which cat litter is better?'
or just swooning over a new cat on the block!!
For all feline enthusiasts, this is a really cool feline community! My cats
Tygra
,
Cotton
,
Jennifer
and
Zaturr
are members already. Pity I don't have pictures of my other cats... they'll be joining the catwagon for sure!!!
Check it out. By the way, there's also a
Dogster
! (and
Petster
even!)