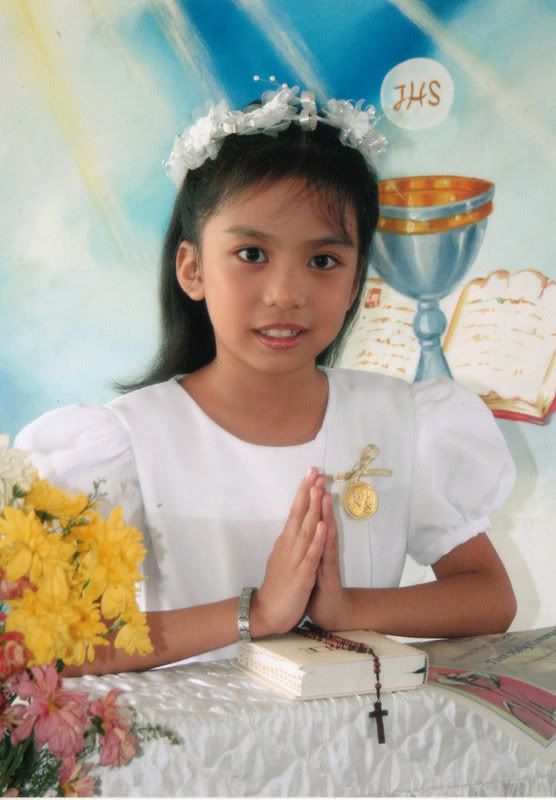 Andee came home yesterday and showed me her official Communion photo taken last December.
Ganda
daughter! (I had to finally throw in the white towel..
kamukha nga niya ang tatay niya
. ) It was a long queue for this photo opt during her communion. While waiting in line, just like the other moms, I had to apply
konting
make-up lang on her face.
Aba!
Bench's Pretty When Pinched
cheek tint and
Cover Girl's Rose Quartz
frosted lipstick works well on her! :-) What is more amusing is, by the time we were nearing our turn, I was looking at the St. Scho's official photographer. He looks VERY familiar... and did I realize it was Mang Roger..
siya pa rin!!!!
I remember him taking our class pictures, oh my, more than 25 years ago already!!!!!
Mabuhay ka Mang Roger!
----------------
Was tinkering with my phone the other day and visited the Sony Ericsson website. I chanced upon
ShoZu
, an application that allows you to transfer or upload your photos to your blog from your phone. Hmmm... interesting. It's a free application and you also have to register online on the website. I'm just having trouble if I'm using Globe for this. Can't seem to connect, even with the settings.
Kelangan dalhin
sa service center. I've got no problem with Smart though.
----------------
The 4th run of the
Zaturnnah muzical
has my weekends booked! Not only do I prefer to watch it with family (of course!), but also, friends at work, and former work, and college would like to watch with me in tow!
Feeling daw nila
, VIP
sila
coz they are with the sister of the Zaturnnah creator! AS IF! First scheduled is the Jan. 21st evening show, and the succeeding, well,
pinag-aawayan pa!
Ok
lang...basta treat niyo ko ha
! :-) See you there!
For those planning to watch,
Cak
has designed a
souvenir poster
for sale at the muzical, and oh, you can get your copy (and additional copies, in case your own copy has not yet been returned from borrowing, or is already dilapidated because of borrowing) of the comic book, and of course, the muzical CD soundtrack too. Something more to look forward to!
(Hmmm....wondering if the Amazonista wands will also be available?!?!?)